First Peoples Disability Network Australia explains how to protect yourself, Elders, family and community from Coronavirus and keep safe.
The COVID-19 vaccine is free for everyone, but some people need to be protected first.
Elders over 55, mob with disability and bad health can get the vaccine now. The Government calls this phase 1b. The rest of the mob can get the vaccine next. The Government calls this phase 2a. If you miss out on your turn, you can get the vaccine at any time.
You can make a time to get the vaccine from your Aboriginal and Torres Strait Islander Health Centre or your Doctor.
Artwork By Uncle Paul Constable Calcott.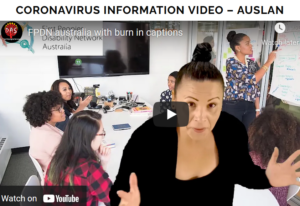 Watch the video in Auslan
Visit First Peoples Disability Network Australia to read more
To get the most up to date information visit the Department of Health website