The board of Deafness Forum, elected by and representing the broad membership base, sets the direction and policy on key issues. It ensures the organisation is focused on its purpose and strategic objectives, and manages its resources efficiently and effectively for the future. The composition of the Board reflects the broad nature of the deafness sector. The directors' various life experiences and professional expertise, coupled with the Deafness Forum's activities and consultative processes, ensure the organisation has the authority to respond to key issues common to the entire deafness sector.
Our patron is the Honorable John Howard OM AC, 25th Prime Minister of Australia from 1996 to 2007.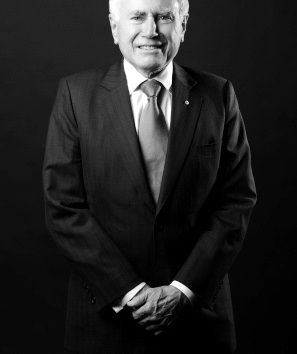 Deafness Forum chairpersons since its inception in 1993
Libby Harricks AM
Dereck Ward
Cath Bonnes AM
Stan Batson
Margaret Roberston
Alex Jones
David Brady
Honorary Life Members
John Bartlett, SA
Alex Jones, NSW
Peter Lindley, QLD
Margaret Robertson, VIC
Brian Rope OAM, ACT
Jenny Rosen AM, NSW
Andrew Stewart, NSW
Robert Quail, QLD
The Executive in 2022
David Brady, chairperson
David was born with a profound hearing loss and wears two hearing aids. He was raised in Armidale in country NSW and remains a passionate New Englander.
He has a Master of Science and Graduate Diploma in Project Management. He is the chief executive of an organisation that provides mentoring programs for deaf teenagers.
David represented Australia at the 2005 Deaflympic Games in water polo and has coached in mainstream sports at the representative level.
David is Deafness Forum's 7th chairperson.
Michelle Courts, vice chair
Michelle is a parent of two sons, one of whom experienced unilateral hearing loss at the age of seven.
A Registered Nurse, Michelle holds a Master & Bachelor of Nursing and a Diploma in Management. She specialised in Paediatric and Community nursing, with a sound understanding of the disability sector and the introduction of the National Disability Insurance Scheme. She has worked in community aged care, specialising in supporting individuals at home with health and social engagement taking a social view of health and welfare.
Michelle represents Deafness Forum on the Australasian Newborn Hearing Screening Committee.
Jeff Johnson, director
Jeff was a mathematics teacher at Wesley College, South Perth and with his wife Lesley, taught language to their deaf son Rhys to the point where he now speaks publicly to other deaf people.
In the 1970's he attended London University where he studied mathematics at Birkbeck College. He also ran the sports gymnasium/swimming pool at University of London Union in Bloomsbury.
Jeff has always taught his students to trust themselves and their decisions after getting all information needed for their individual situations.
Rhonda Locke, director
Rhonda joined the board of Deafness Forum at the 2020 Annual General Meeting to represent the views of people with ear and balance disorders.
She is the Director of marketing agency, Unlocke Creative and has consulted to government and industry on strategies to increase company, product and personal brand equity, establish and reposition brands, launch new products, increase market share and grow digital and social media influence.
She has lived with Meniere's for 20 years.
Dwin Tucker, director and treasurer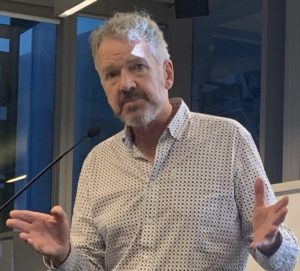 Dwin joined the board at the 2020 Annual General Meeting.
He has been a CEO of eight organisations from large to small, especially bringing financial, strategy and technology background to the roles. He has also been a director and chair of many other organisations including his current role as Vice President of Medecins Sans Frontieres Australia.
He funds two annual prizes for best HSC student in NSW with a hearing impairment and best tertiary paper in the field of hearing research.
Dwin has a Bachelor of Science, Bachelor of Commerce, Master of Business and MAICD.
He became involved in the deafness community first when working as an Interim CEO of the Australian Communications Exchange which then ran Australia's National Relay Services. He subsequently became an owner of Clearasound which is the supplier and servicer of TTY's and a leading installer of hearing loops and school hearing systems.
Raelene Walker, vice chair
Rae Walker is a career STEM educator with extensive experience teaching in Secondary and University education. She currently works as an academic specialist and pastoral care support Teacher of the Deaf at Shenton College Deaf Education Centre in Western Australia.
Rae was born hearing but an illness left her profoundly deaf as an adult. She also suffers from severe tinnutis and episodic vertigo.
She has a Degree in Education – Science/Math Specialist, Diplomas in Human Resource Management and Auslan and is currently enrolled in a Masters of Education at the University of Western Australia.
Her particular interests as a Director of Deafness Forum are inclusive education, mental health and access to services.
Steve Williamson, chief executive
Steve Williamson is the 4th chief executive officer of Deafness Forum Australia.
Before this, he headed corporate relations and marketing for the peak bodies representing the road freight sector and the engineering profession; and was government liaison for the Australian Broadcasting Corporation TV Marketing. He was a journalist for the ABC and commercial radio, and co-winner of a United Nations Association of Australia Media Peace Award. Steve has also worked as a supermarket shelf-stacker, a brickworks labourer, cross-country ski instructor, and as a volunteer for Vinnies.
His job is to represent Deafness Forum in the:
World Hearing Forum, a group within World Health Organization
editorial committee of the WHO publication, "News from the World Hearing Forum"
International Federation of Hard of Hearing People
National Disability Insurance Scheme CEO Forum
Hearing Health Sector Alliance
Disability Support Services Committee, convened by the Department of Social Services and Department of Health
Paediatric Competency Standards working group
Hearing Services Inter-agency Communications Working Group (other members represent Department of Social Services, Health, Hearing Australia and NDIS)
​Disability Gateway Reference Group for the Department of Social Services;
and speaks for consumers through the Australian Federation of Disability Organisations.